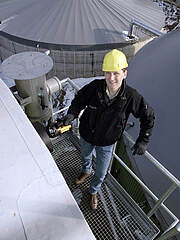 The operation of a biogas plant makes various legal, technical, biological and organisatory demands on the operator. The implementation of all the necessary measures is time intensive and requires specialised knowledge. Krieg & Fischer Ingenieure GmbH offers a wide range of services designed to support you in the operation of your biogas plant. Our aim is the reduction of your work load while simultaneously improving the safety of your biogas plant. Our portfolia of operator service has a modulare construction.

Modul 1 Biological support:
Laboratory data interpretation and recommendations for substrate feeding
Modul 2 Hazard assessment:
Preparation of a hazard assessment for the operation of a biogas plant. Evaluation of plant safety and development of appropriate safety measures.
Modul 3 Explosion safety document and layout:
Preparation of an explosion safety document including explosion zones layout drawing for the operation of a biogas plant. Evaluation of appropriate safety measures.
Modul 4Explosion protection inspection:
Visual inspection and documentation control of devices in explosive areas. Gas leakage measurement at critical devices.
Modul 7 Maintenance schedule:
Implementation of "all" necessary maintenance tasks for the specific biogas plant into maintenance software. The software reminds the operator to the open tasks and provides a tool for professional recording of the finished maintenance works.
Modul 8 Functional safety (SIL)
Identifying of risks from instrumented systems. Determination of the required safety integrity level (SIL).
Modul 9 Safety related support for cleaning of digestion tanks:
Determination of the required work steps and preparation of a hazard assessment for the cleaning of a digestion tank. On-site instruction in safety procedures for internal and external workers.
Modul 10 Instruction of external companies:
Safety related instruction of external companies for works with high potential risk. Checking of necessary documentation (i.e. hazard assessment) from external company.
Modul 11 Yearly operator training:
On-site safety related operator training. Presentation of different topics adapted to the needs of the specific biogas plant.
Modul 12 Emergency plan and safety exercise:
Determination of possible emergencies and preparation of an emergency plan. Presentation of the emergency plan and performance of a safety exercise during one on-site visit.
Modul 13 Technical guideline for the handling of hazardous materials 529:
One-site visit related to plant conformity to actual german guideline TRGS 529 (work for production of biogas). Review of existing hazard assessment area and implementation of new standards given by TRGS 529.
Modul 14 Revision of hazadous incident document

Revision of harzardous incident document as regulated by law.
Modul 15 Verication of insurance cover

Review and inspection of existing or future business interruption insurance contract by an experienced laywer. Recommendations for improvement.